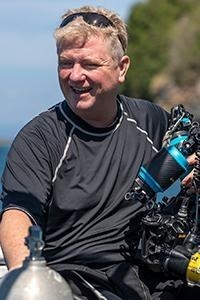 Mike Bartick
Mike is a working underwater photographer residing in Anilao, Philippines.
His curiosity and love of the ocean drives him for first-hand experience which has lead him across the globe in search of that special critter encounter.
He is a widely published, award winning photographer, writer, public speaker and Sea & Sea Alpha with work appearing monthly in various magazines, websites and internet publications.

A pioneer of blackwater diving in Anilao, Philippines, Mike spends most of his nights exploring the local bays and waterways.

Mike hosts photo clinics and workshops at Crystal Blue Resort and is a mentor to students worldwide, inspiring and coaching his students in developing their underwater photo skills and knowledge of marine life.

5000+ dives with 450+ dives a year, 12 workshops per year (250-300 attendees), 4 blackwater safaris (40+ attendees) a year plus personal dive travel.
Please visit the following sites for a full overview of Ambassador's images.
Copyright of these image data belongs to SEA&SEA Corporation or the photographer indicated.