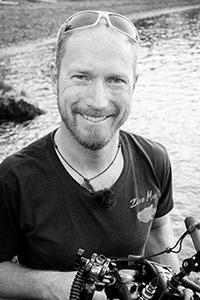 Stefan Beskow
About Stefan
Stefan has always been fascinated by what's hiding under the surface. As a young boy he explored the seabed's close to Varberg in Sothern Sweden and learned how to dive more than 25 years ago. The moment he took a camera underwater he was hooked. With his motto "You never know if you never go" he is still eager to make the next dive.

As a photographer he is a regular contributor to the Asian dive magazine DYK and has had his articles and pictures published in several international magazines. He is also an ambassador for Exposure underwater.
South East Asia and Indonesia in particular are his favorite playgrounds when choosing the next dive trip. This is because of the unparalleled marine biodiversity and beautiful reefs and he has made several trips to Bali and Sulawesi. On his bucket list is places like Raja Ampat and Komodo which he hopes to visit in the near future Stefan is a teacher and also educates underwater photographers. He has made three instructional films for Moderskeppet, the largest producer of educational photographic films in Scandinavia. Frequently he does workshops about underwater photography and is a proud member of "Naturfotograferna", a society of the premier nature photographers in Sweden.
Please visit the following sites for a full overview of Ambassador's images.
Copyright of these image data belongs to SEA&SEA Corporation or the photographer indicated.