Diving Service Kawana Biyori
KATSUNORI YAGI
---
Born in March 1970 and lives in Kawana. Belongs to a guide association. After serving an apprenticeship under Hiro MOC in Saipan, he established Kawana Diving Service Kawana Biyori in Kawana, Izu. He is a guide diver with a deep-rooted passion for his job as a "guide" and continues to dive every day with challenges to always improve. While guiding, he also devotes himself to underwater photography under the theme of "Underwater Life in Kawana. Many of his works have been published in diving magazines, illustrated books, and web magazines. He is also active in a wide range of other activities, such as teaching at a high school as a temporary instructor and shooting video clips of idols.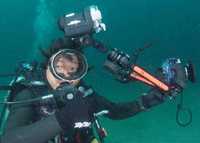 Review of YS-01
---
Using the YS-01
My first impression of the YS-01 is that it is small.
Not only is it small, but its elongated shape makes it easy to grip when changing angles underwater. Also, the fiber-optic connection only means that there is no need to worry about submersion or hassle with maintenance, making it convenient when taking it on tours and the like.
I immediately tried using it underwater.
What I felt the most was the operability of the dial on the back. In Izu, I often wear gloves to avoid low water temperatures and injuries, but the dials and levers are large and have plenty of space, and the uneven surfaces make them easy to operate even with gloves on.
The TTL is almost always a snap, whether I'm shooting wide or macro. It's TTL, but it's almost always a snap, whether I'm shooting wide or macro. I don't have to think too hard to take pictures.
The photo of the lionfish was taken when I was about to swim past it and suddenly it started yawning? It must have been about 2 seconds. It must have been about 2 seconds.
I thought, "Whoa! I thought, "Oh!", pointed the camera at it, and just snapped away. The camera responded instantly and accurately to the ecological scene, so I didn't miss any shots.
In Izu, I often shoot in the dark at rocky areas, so I used the target light function, which is a personal favorite of mine.
I found a sockeye anglerfish just lurking in a crevice in the rocks.
Fish that live in the dark don't like it when the light is too bright, but the amount of light seemed to be comfortable for both the fish and the photographer.
Since the light is operated by simply pushing the button from the back, it is good to be able to push the button by hand even in a rocky environment where it is difficult to look at the control panel.
Finally, I aimed the flash at a moving object and a sandy area prone to flying.
I wanted to capture the dynamism of a fleeing semipalmated sea robin, so I used a slow shutter speed and stopped down the aperture. Although the data looked a bit haphazard at first glance, the TTL worked well.
I was surprised that I was able to capture the image exactly as I had imagined (laughs).
If I had to sum up this strobe in one word, it would be "high performance handy strobe!
*Copyright of these image data belongs to SEA&SEA Corporation or the photographer indicated.