TAKAJI OCHI
---
After working for the Sankei Shimbun photo news bureau, he became a freelance photographer and writer. Since then, he has continued to cover the natural environment, focusing on southern islands and warm seas. He has over 5,000 dives under his belt. Since then, he has photographed dolphins in many domestic and international waters, including Mikurajima, Hawaii, Florida, Palau, the Bahamas, Australia, and the Marshall Islands. Since then, he has photographed dolphins in many waters in Japan and abroad, including Mikurajima, Hawaii, Florida, Palau, the Bahamas, Australia and the Marshall Islands.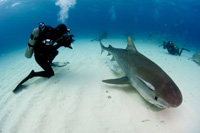 1. MDX-7D +VF45 1.2x (45° viewfinder) + 100mm macro
---
During the December 2010 Yap location shoot, I used the VF45 1.2x (45° viewfinder) for the first time to take macro shots with the MDX-7D + 100mm.
It took me a while to get used to the 45° viewfinder, since I usually face the subject straight on, but the chance of out-of-focus photos was greatly reduced because I could focus on the subject that was clearly projected.
When taking macro shots in shallow water with swells, I used to have to endure the subtle shaking of the camera while focusing. I often felt uneasy because I was not sure if the focus was right or not.
In fact, many times the pin was a little out of focus from my eyes, which was frustrating.
However, thanks to this viewfinder, I was able to press the shutter button with confidence that the focus was definitely on my eyes while shooting.

Ideal for overhead macro.
Recently, many people like to take macro shots with the blue ocean in the background, and this is one of my favorite ways to take pictures.
With the VF45 1.2x attached, I am now able to shoot in a more comfortable position, and I am less likely to have to jostle to get into position in front of the subject when shooting, so I am less likely to have the subject run away from me.
Until I got used to it, I felt uncomfortable with the 45-degree angle and would point the lens much higher than where the subject was actually located.
Even in such cases, it is easy to find the border between the blue background and the coral, as in this photo, and it is good practice to get used to this angle.
With a slightly charming gaze
When photographing the symbiotic goby, most of the time the composition was from above looking down, but by using the VF45 1.2x, I was able to capture the ostentatious yet charming expression as shown in the photo.
At this time, I was looking through the viewfinder and enjoying watching the gibbon's face as it moved in and out of the viewfinder.
I wanted to get a little closer to him because I wanted to take some more close-up shots of his facial expressions. However, he was quite timid, so this composition was probably a better distance from a photographic point of view because it showed his timidity.
I am not sure how well I can use the VF45 1.2x yet, but I think the VF45 1.2x worked better for the above-mentioned shooting.
Of course, I feel that I need to get used to this angle in order to follow subjects that move around, but since I can easily attach the VF45 1.2x to my camera, if I have a specific subject or theme in mind, I can change my shooting style by attaching or removing the camera each time I want to take a picture.
2. tiger shark taken with VF45 1.2x (45° viewfinder)
---
I went to Tiger Beach, a popular shark feeding site in the northwestern Bahamas, to take pictures. This point is famous for the high rate of sightings of several tiger sharks as well as many lemon sharks.
Before diving, you may feel a bit uneasy about diving without a cage because of the "man eater" image. But that is only for the first few minutes. Some of the tiger sharks that show up are named Smiley, Emma, and so on, and after meeting them several times, you begin to feel a sense of familiarity with them. Some of the sharks had clearly distinguishable features, and this time, Smiley showed up almost every day.
If you follow the guide's instructions and dive according to the rules, you will find that diving in the flat sandy bottom at a depth of 5 meters is almost as safe and easy as diving on the bottom, depending on your perspective.
If you want the tiger sharks to come closer to you, the guide advised not only "don't chase them," but also "don't make eye contact with them and pretend you are not interested in them.
Tiger sharks are surprisingly sensitive and will move away from you if you make eye contact with them. So, if you don't chase after them, they will move away from you. However, if you want to get a close-up shot, he says it is best to keep your eyes averted and look at them from a slanting angle, instead of remaining still like a stone. That way, the tiger shark will think, "What is that? and then they will come closer.
I tried it. I decided to use the 45-degree viewfinder as I thought it was the best way to "avert their eyes. The 45-degree viewfinder gives the impression of averting your eyes more than a straight line of sight.
I was skeptical, but it seemed to help (?). Perhaps because of this, Tiger did not approach the housing, but rather, touched the tip of his nose to the housing where he was shooting. As I was doing so, Tiger's tooth caught the glove of my right hand, which was gripping the grip, and I involuntarily pulled my hand back in a panic. Tiger was also startled, and he stopped blinking for a moment, his eyes went white, and he moved away from my side in a bit of a hurry.
This may not be a very helpful report for the use of the 45-degree viewfinder, but many shark lovers dash to the sharks no matter what when they see them, but sharks are shy and wary creatures by nature.
If you really want to see sharks up close, they may come closer to a shy but quiet diver than to a cheerful and enthusiastic diver, thinking, "I wouldn't mind being friends with this person.
Well, I am joking about that, but from my own experience, when photographing living creatures, it is often better to avert your eyes or turn your attention away from them so that you can get closer to them.
Personally, I am looking forward to the development of a VF45 1.2x for macro photography and a straight viewfinder for even wider photography (also for targeting large objects such as dolphins that move violently).
*** Translated with www.DeepL.com/Translator (free version) ***
Photography: Canon EOS 5D Mark II + 16mm fisheye SEA&SEA Housing DX-5D Mark II + compact dome port + 45 degree viewfinder + YS-110α x 2 lights
Wetsuit, TUSA 6 ½ two-piece special edition + hood TUSA BCD + regulator, TUSA mask Warp fins
*Copyright of these image data belongs to SEA&SEA Corporation or the photographer indicated.