KYU FURUMI
---
President of Furumi Photo Office. Born in Nerima Ward, Tokyo.
After working as a diving guide in Kushimoto, Wakayama Prefecture, the southernmost town in Honshu, he became an independent photographer. Currently based in Tokyo, he energetically photographs nature and culture in various regions of the world's oceans, and his work has been published in various media, including diving magazines such as Diver Monthly. He is the co-author of "Nanki-Kushimoto Marine Life Watching Guide.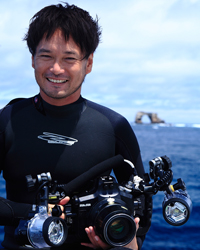 Review of MDX-7D (housing for Canon EOS 7D)
---
Using MDX-7D (housing for Canon EOS 7D)

1. Focal length increased by 1.6 times
I have been using the DX-5D, MDX-40D, and MDX-PRO 5D MarkII housings since I first got the MDX-PRO 5D MarkII, and I was satisfied that I had obtained something as close to my ideal as possible. I was satisfied with the MDX-PRO 5D MarkII as it was as close to my ideal as I could get, but I was also very interested in the features of the EOS7D, as the camera's functions and operability are advancing day by day.
I mainly use this MDX-7D with a macro lens such as the EF100mm or SIGMA 50mm. Or rather, I am thinking of using it almost completely for macro photography.
One of the main reasons is that, first of all, due to the camera's construction, the focal length of the lens to which it is attached is 1.6 times longer. For example, if you use a 100mm lens, the focal length will be equivalent to 160mm.
Whether this is an advantage or a disadvantage depends greatly on the user, but I am very interested in the "communication in the sea" shown by small creatures, so I first look for situations where "something and something" are together. Small creatures, only a few centimeters in size, are much shyer than we think, even if they are alone. To capture communication, we naturally have to take pictures of multiple animals together, which requires extra care. In such a case, the working distance of 160mm is very effective. Compared to the 100mm working distance, the 160mm working distance allows me to take larger shots of the subject from a greater distance and to catch a glimpse of their natural behavior. This is the best distance for me at the moment. Then, you may think, "Wouldn't it be better to have 200mm or so to allow me to move further away?" However, if I move further away from the subject, a strobe with a more powerful flash than the one I have on hand (YS-110α) would probably be used, so I feel this is the best distance for me at the moment.
2. New Auto Lighting Optimizer function
The EOS7D has a new feature, the Auto Lighting Optimizer. This is another feature that intrigued me with the 7D.
According to the instruction manual, it "can correct the brightness and contrast when the result of shooting is dark or low contrast. In other words, the camera automatically adjusts the brightness to what it thinks is appropriate. This is a dream come true. There are four options for this function: high, standard, low, and off. I decided to try it on high first to test its power to the fullest.
I have always preferred to take high key (brightened) photos. I was curious to see how the auto-lighting optimizer would compensate for this. As a result, I got the impression that the exposure was even brighter than I had always imagined. I tried many times, but I felt that it was difficult to get the image to reflect what I wanted. It is quite natural for a photographer who has always used manual exposure and strobe intensity, and who has always thought about the shadows in his photographs, to suddenly seek the best results by using the camera's built-in auto exposure compensation function. As I gradually reduced the effect, from standard to low, I naturally got closer to my usual image.
Paradoxically, this function may be very useful for beginner divers who are not yet familiar with underwater photography or divers who want to learn by taking beautiful pictures first. When we asked divers who take underwater photographs, "What kind of mistakes do you often make?" Many of them answered, "The pictures are too dark. For these divers, they can start with the Auto Lighting Optimizer and then gradually increase, decrease, or turn off the effect as they become more familiar with underwater photography and find their own photographic style. With this feature, you can grow with your camera. I hope that you will enjoy shooting with your camera as a long-lasting companion.
I would like to continue to search for new ways to express myself, and to build a shooting method that can make full use of this function.
*** Translated with www.DeepL.com/Translator (free version) ***
3. High sensitivity photography
The 7D is also strong at high sensitivities. Normally, I tend to shoot at ISO 200 because of my experience and various balances, but depending on the situation, such as when I want to release the shutter quickly or stop down the aperture even further, I use sensitivity settings of 640 or 800. If I make a very large print, the difference may be noticeable, but usually when the print is large enough to be published in a magazine, the difference is almost imperceptible. So now, for example, when shooting precious ecological scenes in the dim light of the sunset, I do not hesitate to increase the sensitivity if necessary. It is possible to raise the sensitivity up to 6400 for normal use, which makes it possible to handle a variety of situations.
4. Housing operability
The MDX-7D is designed to allow the camera's built-in flash to pop up, so the top of the housing seems to stick out a little more than other housings I've used. However, when I picked up the MDX-7D, I found it to be much more compact than it looks in the catalog. I am glad to have a compact housing since I sometimes carry multiple housings for a single dive. The distance between each button on the back of the housing is very close, making it even easier to use than the MDX-PRO 5D Mark II. Being able to operate major shooting functions almost exclusively with the right hand is an irreplaceable advantage. It is also reassuring that the rigidity of the housing seems to have been improved. First of all, the housing feels compact in the hand as mentioned above, but it also feels more solid and secure than previous models. According to the catalog, the depth rating is 60m, which is sufficient for even the deepest depths.
The combination with the newly developed 45° viewfinder "VF45 1.2x" is also very exciting.
I am looking forward to capturing wonderful moments in the world's oceans with my new partner, the MDX-7D, as the hard work continues.
*Copyright of these image data belongs to SEA&SEA Corporation or the photographer indicated.